Snooker Hooker - What that booty do
11:50
Ik ga nie zeveren, time is money... Maar het oog wil ook wat. Momenteel is het WK snooker bezig, en ik wil niet dat deze heilige gebeurtenis voorbij gaat zonder een waardige vermelding. Het zouden parels voor de zwijnen zijn!
Dus vind zo snel mogelijk BBC1 (heerlijk Engelse commentaren) of Eurosport en geef je ogen de kost.
Helaas is snooker alleen gefilmd voor het ongetrainde mannenkontenliefhebbend hetero-oog. Dus helaas is het aantal hemelse gifs letter.
Mis geen enkele wedstrijd van Mark Selby
Haal je favoriete massagestaaf, trilapparaat of getrainde handen erbij, zak uit in je zetel, ontspan, en hou je klaar. Cuz you gon need that tho.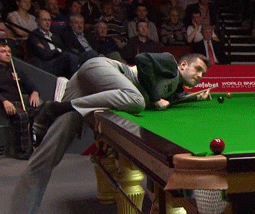 Juicy out
Dikke zoen van je kapoen.
x